LJ Construction Training Academy Back Up & Running
Welcoming New & Existing Trainees With Two Exciting Training Initiatives!
We're delighted to announce that the LJ Construction Training Academy is back up & running with 2 new training initiatives to develop future carpenters to help them to become ready for site.
We have 2 new training initiatives currently running:
1. Intensive Classes - For current trainees
Intensive training focused on complicated & difficult elements.
Additional training to cover essential knowledge of items which cause the biggest customer care or quality issues.
We have just completed 3 weeks intense training with trainee Robert Ball doing a winding staircase.
He's now fitted a full set, on site, on his own with the support of our Trainee Development Manager, Paul Connor.
Paul will now supervise his next 2 sets & then sign him off as a fitter.
This process would take up to 6 months worth of training on site, all done in 6 weeks with the benefit of the training academy.
2. Night School - For new trainees
We're proud to be welcoming our first group of night school trainees.
5 keen future carpenters will receive 2 hours of training to learn the basics of the trade whilst developing future opportunities to become carpenters with us.
Thanks to their training when they arrive to site they will have an awareness of the site environment combined with their newly acquired skills.
As a business, we can also monitor and assess the skills, attitude and approach of the trainees before sending them on site to represent the company. All of these essential aspects continue to gradually raise standards on site.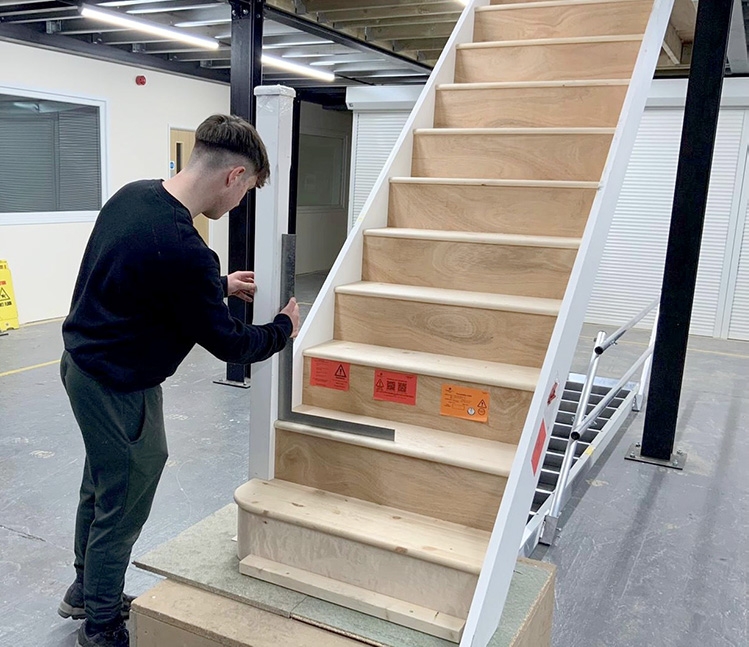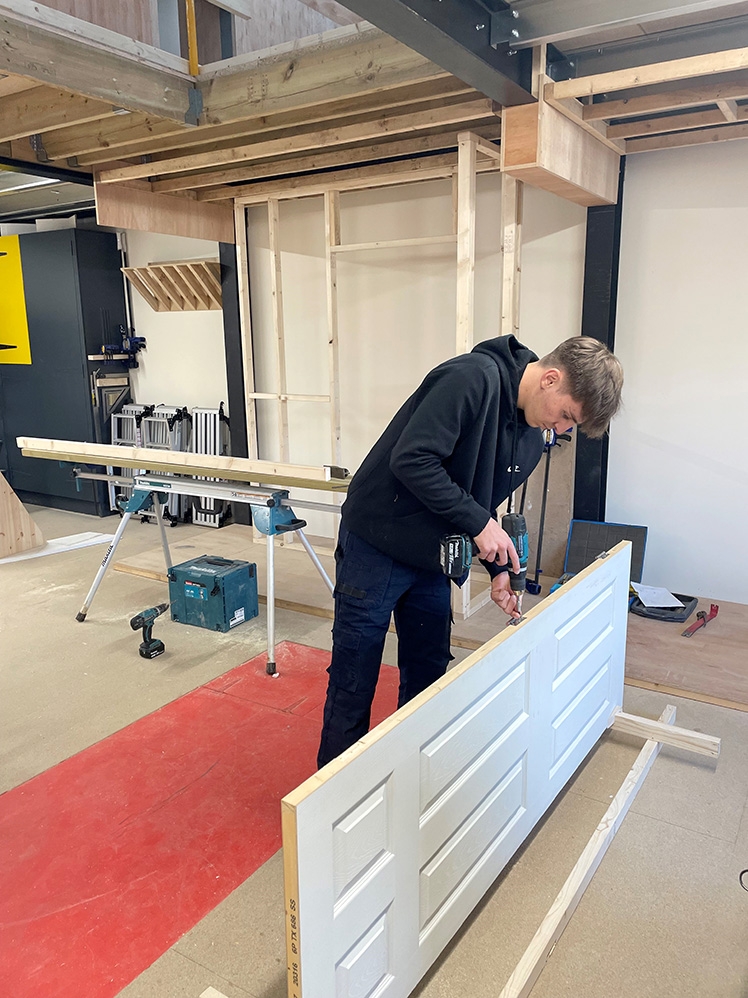 The Ideal Preparation For Real Site Situations
As well as developing their carpentry trade skills, we are teaching the students about essential "real site situations" regarding site safety, material management, tool competency & support for the site team. With a focus on customer care related items, fire stopping & the 'know how' to support the site management team.
We feel this training prior to their introduction to real site environment gives these students a huge advantage in being ready for site & deliver consistent work in a safe environment.
The Opportunity To Push Skills & Confidence To The Next Level
Discussing his training at our academy, trainee Robert Bell said, "I have been working with LJ Construction for just over a year. It's been great on site working with my mentor, Will Hicks. He's taught me loads!
"To help my progression with more complicated tasks over the past 3 weeks I've been coming to the Intensive Evening Class with the Trainee Development Manager, Paul Connor.
"Within 3 sessions of intensive work on winding stair cases, I was able to fit a full set on site under his supervision which was quality inspected by my Contracts Manager.
"It's been great getting the confidence to work to this level & I would encourage all the other trainees to spend some time at the Academy to push themselves to the next level."