LJ Construction Proud To Open Carpentry Training School
Our Training School Is Officially Open!
We are excited to announce that as of next week (w/c 19th March, 2020) we will welcome 16 Level 2 students to the 1st ever LJ Construction Carpentry School program.
The students from Bedford, Milton Keynes, Warwick (Moreton Morrell), Higham Ferrers & Northampton colleges will be with us for 2 days a week, some of them receiving training for the next 4 months, to increase their carpentry skills & knowledge.
During that time the students will be trained, supervised & guided full time by our in-house trainee manager.
New Training Centre Facilities
We are delighted to offer the incoming students the 1st use of our brand-new, purpose built training centre.
The facilities will provide the students with a classroom plus 6 working plots with additional areas for a site office, waste setup, plus tool storage to ensure the centre is a safe & efficient environment to inspire & provide expert training.
The course will develop the students' transferable skills, helping them to become ready for site.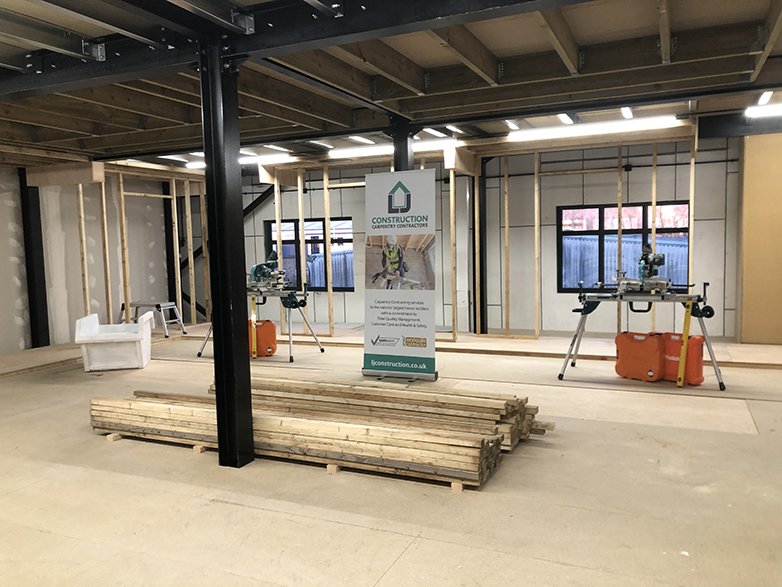 The Ideal Preparation For Real Site Situations
As well as developing their carpentry trade skills, we will also be teaching the students about essential "real site situations" regarding site safety, material management, tool competency & support for the site team. With a focus on customer care related items, fire stopping and the 'know how' to support the site management team.
We feel this training prior to their introduction to real site environment gives these students a huge advantage in being ready for site & deliver consistent work in a safe environment.
A Huge Opportunity - A Chance To Join The LJ Construction Team
As award-winning contractors, we strive to deliver best-in-class Carpentry services to the nations' largest house builders & at the end of the course we will be offering the highest performing students a position with LJ Construction as Trainee Carpenters. They will then be matched with an experienced mentor & continue their training on-site as part of the LJ Team.
An Investment In The Future
Our Director, Ryan Jones said, "As the demands for quality, skills & safety continue to grow, as a business we feel this is in perfect time to open our training school."
"We fully believe that the development of our new training facilities & our ongoing commitment to providing the best carpentry training is an investment in the future. We can't wait to get started!"